Need an application that doesn't exist? From simple quoting calculators to a full CRM for your business.
Contact us for a no obligation free consultation and quotation.
A simple transfer time and distance calculator that uses Google Maps to calculate time required.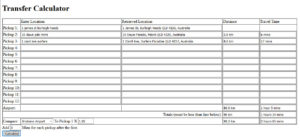 Rental Car Control. A complete customer and fleet management package for the rental car industry.